TV era: $quote = "In the future, everyone will be world-famous for 15 minutes";
Search era: $quote =~ s/minutes/links/;
Social era: $quote =~ s/links/tweets/;
This month I've had five times more traffic than in any other month since I began blogging in Oct 2006, even during woblomo.
Why? I paid Paul Graham a compliment that struck a minor viral nerve, spreading through twitter, facebook, and blogs and sending over six thousand people my way on July 16 alone according to quantcast. Of course most have since dispersed.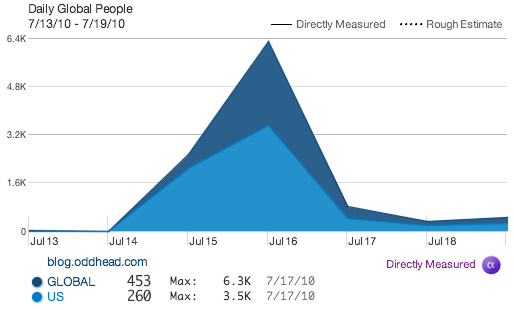 Power on the web flows backward through referrals to the sites that people begin their day with, the sources of traffic. Referrals from social media, unpredictable and bursty though they may be, are inexorably on the rise. As they grow, power will shift away from search engines, today's referral kings. Who knows, this may embolden publishers to take previously unthinkable steps like voluntary delisting, further eroding the value of search. This has all been said before, perhaps best by Mark Cuban starting in 2008. It would be a blow to openness and hurt users, but would spark a fascinating battle.
Another meta note: I installed a new WordPress theme: Suffusion. It's fantastic: endlessly configurable, bug free, fast, and well designed. I happened upon it by accident when WP 3.0 broke my old theme and I couldn't be happier. Apparently written by a teenager, I donated to his beer, er, coffee fund.