I felt bad about this. So I made sure to answer this. And whaddya know?: they like me, they really like me!

——– Original Message ——–
Subject: Yahoo! Answers: Your answer has been chosen as the best answer
Date: 24 Apr 2007 09:44:59 -0700
From: Yahoo! Answers
To: pennockd

Hey, Dave, look what you got!

Congratulations, you've got a best answer and 10 extra points!

Your answer to the following question really hit the spot and has been chosen as the best answer:

Who will win in 2008 and why (real answers)?

Go ahead, do your victory dance. Celebrate a little. Brag a little.
Then come back and answer a few more questions!

Thanks for sharing what you know and making someone's day.

The Yahoo! Answers Team

Get the Yahoo! Toolbar for one-click access to Yahoo! Answers.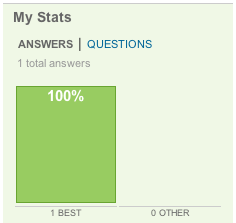 So now I'm 1 for 1! I can see how this gets addictive.