I'm a big believer in the efficient market hypothesis, but IMHO Wall Street's rapture following Steve Jobs's sermon and the ensuing iPhone idol worship cannot possibly be explained by rational behavior. Take a look at this graph (via Midas Oracle via Silicon Valley Watcher via ValleyWag courtesy Yahoo! Finance — long live remix!):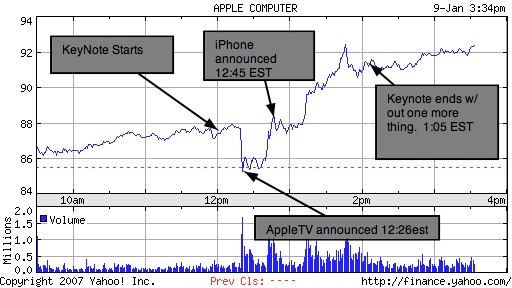 Overall, Apple's stock was up over 11% in the two days following the iPhone announcement. C'mon: no matter how closely Apple guarded the iPhone's specs, no matter how persuasive Jobs's rhetoric, no matter how surprised industry watchers were at the blogomediasphere's glowing reception of the gadget, Jobs's speech could not possibly have revealed over $8 billion in previously undisclosed information. Certainly non-insiders knew some of the details of the iPhone. Almost everyone knew that Apple would announce some sort of cell phone / iPod combo device. Moreover, the thing is not even going on sale until the summer, and then with a single carrier at a price point sure to discourage mass consumption. I'm an Apple fan, an Apple Computer Inc. investor, a Mac user for decades (and an Apple II user before that), and I'm drooling along with the rest of you over the iPhone. But still, some of that sudden $8 billion re-assessment of Apple's worth surely stems from irrational exuberance, herding, and/or good old fashioned religious fervor.
Readers may challenge me to put my money where my mouth is and (short) sell Apple. Since I'm not doing that, take all of this with a grain of salt.