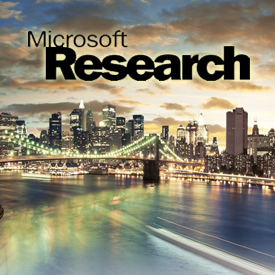 Now that I've said my goodbyes, I'm thrilled to announce that I've joined Microsoft Research, an organization with going-on twenty-one years of commitment to basic and applied research, employing 850 Ph.D. scientists around the globe including Turing Award winners, Fields Medalists, and many long-time colleagues that I hugely respect. If that were all, I would be over-the-top happy right now.
But that's not all. Together with fourteen other founding members (seven of whom I can name: Duncan Watts, John Langford, David Rothschild, Sharad Goel, Dan Goldstein, Jake Hofman, and Sid Suri), we are cutting the ribbon on a new outpost for Microsoft Research in New York City. We will report to Jennifer Chayes, the founder and director of Microsoft Research New England in Cambridge, MA. It's been amazing to watch her up close pursue a goal relentlessly with boundless positive energy. I get the feeling it's how she approaches everything she does, a realization that played no small part in my decision. The New England Lab, like us, is an interdisciplinary research group that blends computer science, social science, and machine learning, yet from different enough perspectives to make this an almost perfect marriage. It's no exaggeration to say that helping to found and lead a new research group amid the bursting tech scene in New York City, with the resources of Microsoft behind us, is — as Duncan says — a once-in-a-career opportunity.
The press coverage Thursday was gratifying, including nice pieces in PCMag (source of the sweet logo above), NYTimes.com, AllThingsD, and dozens more. Here is the official press release. For science perspectives, see John Langford's, Lance Fortnow's, Dan Goldstein's, and Jennifer Chayes's blog posts. One of the coolest moments came when New York Mayor Michael Bloomberg tweeted about us.
Note that, despite the attrition, Yahoo! Labs lives on, probably more applied but not solely so. Ron Brachman, the new head of Yahoo! Labs, is terrific and may be able to do something special there. The Barcelona group remains largely intact and just got 7 (!) papers into SIGIR. Other groups remain intact as well.
The reception within Microsoft research and product orgs has been swift and very warm. The breadth and scope of the place can be daunting at first but invigorating. The ability to impact products that touch hundreds of millions of people's lives is, as always, a rewarding draw of corporate research. Yet one of the deciding factors for many of us in joining Microsoft is the freedom to interact with universities in research, service, teaching, hosting visitors, hiring interns and postdocs, etc. In addition, we'd like to play our part in the New York City tech scene, including the startup, venture-capitalist, and hack/make communities, plus the new Cornell-Technion campus, contributing to Mayor Bloomberg's vision of New York City as a tech hub.
An interesting side note that bodes well for my two daughters ages 7 and 4 is that my primary decision boiled down to working for one of two brilliant and accomplished women: Jennifer Chayes at Microsoft, or Corinna Cortes at Google, who is absolutely terrific. Google is a incredible place, a model of efficiency, innovation, and ambition, with an impressive roster of people, and the company is in a very strong position. But this opportunity at Microsoft simply proved to be too good to pass up. I can't believe how perfectly everything fell into place. I'm beyond thrilled at the outcome and excited to begin this next chapter of my career.